Winamp
Goodbye Winamp
Winamp is closing December 20, 2013.
JRiver loved Winamp too. And we think you might like JRiver Media Center.
Thanks for the memories
Anyone with a history in digital media has a warm place in their heart for Winamp: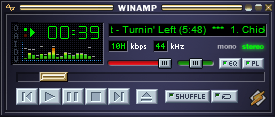 Winamp was an amazing program. It broke important ground with its plugin support. Justin Frankel was a genius developer.
From Matt Ashland, JRiver's CTO, "I remember using the very first version of Winamp. I sent a feature request for them to add an equalizer, and was thrilled when it showed up! No lossless audio files could play in Winamp when I was in college, which is why Monkey's Audio was born. Goodbye Winamp, you'll be missed."
JRiver
In 1999, AOL bought Winamp for $80 million. Justin left shortly after and Winamp was never the same.
During that time, JRiver has been steadily improving Media Center. We're now on version 19, have a half million posts on our forum, and are a best-selling media player.
JRiver has earned its reputation as the premier audio player. We embrace the same community driven development model that helped Winamp thrive.
You can try JRiver Media Center for free here.
If you decide you like JRiver (we sell our software and try to make an honest living) use this coupon for a $10 discount: goodbyewinamp
Thanks for looking.